15 Fetishes You Didn't Know Existed
There are many existing types of fetishes around the world which we should be able to understand correctly, know their causes, and how to control them. By following this, we will live in a pleasant environment.
In the field of human sexuality, paraphilia remains the most exciting topic of discussion. Paraphilia refers to an unusual form of sexual expression which includes fetishism and sadomasochism. Fetishism is when people become sexually fixated on specific body parts or non –living objects. Sadomasochism is when people experience sexual arousal in response to receiving pain or giving. Paraphilia has broad information set for us to understand.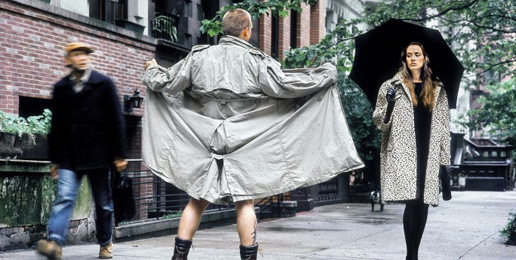 Image: A Paraphilic Person causing distress to other individuals. Photo was taken from Illinois Family Institute.
Many of these behaviors are exceedingly rare hence have not been made to receive much in the way of research attention. Paraphilia is not necessary disorders that require treatment; they only become clinically significant to the extent that they cause victimization of others or distress to individuals. The following are types of paraphilia.
PARAPHILIC INFANTILISM
Image: A common sexual trigger for Paraphilic Infantilism is wearing diaper. Photo taken from Pyschology Today
Paraphilic infantilism arouses when one is dressed like a baby or is getting the baby treats. The person feels sexual incite, captures from having to dress up like a baby or being treated like one. It may or may not overlap with diaper fetishism, in which a person receives sexual pleasure from wearing or using diapers.
FORMICOPHILIA
Image: Ao leong Mike illustration of Formicophilia on Flicker. Photo taken from Flicker
This sexual arousal is usually from having insects like ants which will crawl all over your genitals in the body and usually bite or sting you as they do so. The pain from the bites and stings to them is a turn-on and not as painful as it would be for an average person.
TROILISM/CUCKOLDS
The sexual pleasure derived from seeing one's partner engaging in sexual activities with another person, or from knowing that one's partner is having an affair is classified under this fetish. Surprisingly, a high number of women and men appear to have such fantasies.
ABASIOPHILIA
Sexual arousal caused by seeing or being sexually active when interacting with a person who has limited mobility, especially a person on crutches. Sexual arousal is derived from either sexually interacting with a person who has limited mobility or even viewing such an individual as a potential sexual partner.
OMORASHI
Image: Illustration of Omurashi. Photo taken from Pinterest
Sexual pleasure is triggered when an individual has a full bladder, watching someone else with a full bladder wet themselves, or having a full bladder. It is different from urophilia, in which a person experiences arousal in response to having someone urinates on them or peeing on someone else.
FROTTEURISM
Image: Sexual Addicts goes to Subway to quench their Frotteurism thirst. Photo taken from Bossip
Sexual arousal which excites from rubbing up against a non-consenting person in a public place like a bar or on a subway. Always think twice when someone bumps into you from nowhere in the middle of a crowd.
BUG CHASING
Sexual arousal gotten from having sex or fantasizing about having sex with someone who is HIV-positive. Some of these individuals hope to catch the infection in the process without caring about the outcome first.
KLISMAPHILIA
Image: Klismaphilia Disorder which is said to be the story behind enema medications. Photo taken from gimrack hospital
This is a sexual fetish where you get turned on by the thought of having liquid like beer poured into your anus with the intention of getting drunk by consuming cocktails this way, but it also dramatically increases your risk of alcohol poisoning.
SACOFRICOSIS
This is a form of sexual arousal resulting from making a hole in the pocket of one's pants to be able to masturbate in public without anybody realizing or seeing them taking action.
Image: A man who has finished masturbating. Photo taken from Oz
BODY INFLATION FETISH:
This is an affinity for expanding yourself, usually with the help of inflation devices under your clothes, so as to look bigger than you really are.
ACROTOMOPHILIA
Image: An amputee person. Photo was taken from Imgur.
This is an attraction and love for the amputees' people. Whether it is the hand or the leg, or any part of the body that is amputated, seeing them is a turn-on, and one would want to have them as sexual partners.
TERATOPHILIA
Image: Teratophilia Illustration. Photo taken from Reddit
It is when you find original beauty in physical deformity, which includes an attraction to mythic human beasts. It may extend over to real beasts around you without your knowing it. This fetish is more of an appreciation than an abnormality though.
COPROPHAGIA
It is a fetish that involves the feeling of wanting to eat poop. It is closely related to coprophilia, which is a fetish that means playing with the feces. The two fetishes are also closely interlinked to Flatulophilia/Eproctolagniac, which is a fetish for people who are fart connoisseurs.
SOMNOPHILIA/SEXOMNIA
This is when you have sex in your sleep. It may not be a fetish necessarily, but it becomes a condition when you begin to have sex in your dream until you experience orgasms. Some people associate it with demonic powers, but that cannot be proved scientifically.
YEASTILITY
This is mostly on pastry products that use yeast. It is a sexual fetish that involves one having sex in the dough. This is a very unhealthy one and is very common with bakers and kneaders with the fetish. They may spill their cum in the dough and just knead on, who knows?
CONCLUSION
From the explanation of the fetish existence, this can typically happen to anyone. It doesn't have an age group, but once it is detected, it should be given full attention to try and curb it early enough. The saying that the earlier, the better is true since some of these fetishes are weird and cannot be cured once they take root. Most of them are on the internet where you can watch, and we should avoid those pages at all, especially if they are the trigger points. Another thing we should try and have a stand on is to be patient and wait for the right time to have sex. Lookout online for the best advice to these conditions if they are too embarrassing for you to talk about with an expert. Look at the consequences before it goes far, and bend it while it is still young. If not, the condition gradually develops into a big issue and affects you even later into your adult life.