Top 10 Reasons To Buy A Realistic Sex Doll
There are different reasons people may choose to get a realistic sex doll. Sometimes it's to improve their sex life, other times it's just to have some extra company around. The sheer number of options you have with what to do with your very own sex doll is almost enough reason to get one. But if you're still not sold, here are some reasons that might convince you to get one for yourself: 
1. THE IDEAL ALTERNATIVE
Realistic sex dolls can bring owners extreme sexual pleasure. Sometimes even in ways that a flesh and blood a human partner couldn't possibly achieve. Sex dolls are unflinchingly flexible and submissive, so much so that you can try any sexual stunt without having to worry about the repercussions. You can try out any sexual fantasy with zero chance of being judged by anyone or questioned. Aside from sexual satisfaction, sex dolls don't cheat, contract diseases, or cause any unwanted friction between themselves and their owners. So if you're tired of human partners, sex dolls are the perfect alternative.
Image: A realistic Sex Doll. Photo taken from Real doll
2. THE SHEER NUMBER OF OPTIONS
Because of increasingly sophisticated technologies in the materials and manufacturing of sex dolls, the looks and overall feel of sex dolls have only steadily gotten better over the years. The dolls are more varied, are more realistic, and are more enjoyable to use than ever. With the different designs available in the market, customizing your sex doll has never been easier and more attainable. With the varied tastes most men have, this is definitely a boon. Potential buyers can now choose different hair colors, eyes colors, body proportions, complexions, and ethnicities. Whatever you want, you can have done.
3. SAFE AND CLEAN
For most guys that just can't get enough of sex, a significantly major issue is being sure that the sex that they have with women is clean and safe. No one wants any unwarranted sexually transmitted infections or unplanned pregnancies. Picking up women for one night stands, patronizing prostitutes or visiting brothels are the only options until sex dolls came into the picture.
Realistic Doll on A Tub. Photo taken from realsex doll reviews
Other than never having the risk of carrying any STIs or getting anyone pregnant, depending on how well you maintain the sex doll, owning one might end up more affordable than patronizing prostitutes or brothels in the long run.
4. QUIET AND SUBMISSIVE
A lot of relationships and marriages fall apart because of how nagging and demanding some partners can be. With realistic sex dolls that, thankfully, don't come with realistic personalities, you can rest assured that your dolls will never nag or pester you about anything. These convenient dolls are perpetually, always submissive, and ready for you and all your sexual desires. They have no sudden mood changes, emotional whims, or argumentative inclinations. They're also incredibly low-maintenance, with no real need for food, new clothes, or expensive dates. All it does is wait where you leave it, quietly and patiently.
5. VIRGINS
Image: Vagina of a Realistic Doll. Photo taken from The Silver Doll
Virgins are a scarce commodity in society nowadays, but some guys find that extremely important in a sexual partner. However, in a world where virgins are hard to come across, realistic sex dolls can be quite the boon. These sex dolls were assembled part by part and remain pristine and untouched until someone purchases them. So you can get one knowing that you'll be the first and probably the only partner for the sex doll that you bought. You can look at realistic sex dolls as brand new houses, and the one you are buying is one that is customized and built especially for you.
6. IMPOSSIBLY PERFECT
Image: Perfect Realistic Sex Doll. Photo taken from Silicon Wives
With their reputations on the line, sex doll manufacturers always make it a point to create realistic sex dolls that are heavily detailed and highly accurate. The makeup, hair, complexion, and overall aesthetic look of the dolls are just as vital on them as they are on real flesh and blood women. Even the small details, like the distinctive looks of the nails, clothing, and also the hairstyles, are meticulously planned and crafted. This to make the sex doll look almost impossibly real and beautiful. A lot of the times, you'd be surprised at how certain sex dolls even exceed the beauty of real women.
7. GENDER-SENSITIVE REALISTIC SEX DOLL
Even though we label dolls as male or female, in all respects, they don't really have genders. As such, they can be considered unisex and can be used by anyone regardless of gender identities or sexual orientations. In fact, sex dolls have been expanding into markets for the transgendered community. There are dolls with both male and female sex organ simulations. There are lady-boy sex dolls and male sex dolls. The manufacturers are inclusive in how they think of the different fetishes and desires of the LGBTQ community. As such, you could say that sex doll creators are gender-sensitive in how they make realistic sex dolls that aren't just for straight men.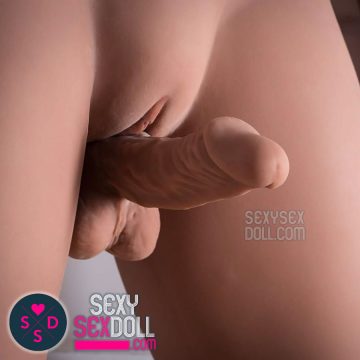 Image: Sex Doll with replaceable sex organs. Photo taken from Sexy Sex Doll.com
8. DEVELOPING TECHNOLOGIES ON REALISTIC SEX DOLL
Technology is continuously developing every day. Sex doll technology too has been advancing, and the more these technologies develop, the more sex dolls become interactive and hi-tech. Some of the more advanced sex dolls nowadays have built-in audio output systems that let them moan when they are touched in sensitive areas. Companies have recently looked into using artificial intelligence to make sex doll experiences even more interactive.
9. NOT REALLY CHEATING
Most people who have been in long-term relationships will eventually feel the thirst for trying something new. So how do you get to do that without cheating? Getting yourself a sex doll lets you have your cake and eat it too. Sex dolls are inanimate objects and are guaranteed to be secretive and infection-free. There can be no real threat to your relationship with realistic sex dolls.
10. DISCREET HANDLING OF REALISTIC SEX DOLL
Having discreet shipping is part and parcel of most sex doll online marketplaces. Company logos are kept hidden, boxes have discreet shapes, and buyers are given options of picking up packages from shipping centers to avoid having the packages left outside the house.
Image: Silicon Wives Discreet Handling. Photo taken from their website.